(Complete)
Name: Distortion Moth
Species: Moth/Butterfly
Type: Insect, Aerial
Elemental Affiliation: Wind (Poison)
Combat Specialty: Aerial (Long Range)
Sociability: Aggressive, but Timid, Mischievous
Threat Level: Low-Medium
Habitats: Blossom Field, Pale Forest, Necropolis (Graveyard), Crystal Nexus
Weaknesses: Fire Element, Physical Attacks
Immunities: Poison, Silence, Slow, Stop
Item Dropped: Deadly Spore, Distortion Wing
Additional Info: Extremely fast, uses sound to track and attack. Antennae are capable of picking up vibrations and wavelengths in the air. Eyes are large for incredible perception, especially at night. Makes no noise as it flies. When up close, the dust from its wings obscures vision severely. Able to distort wavelengths and vibrations.
Weapons
Wings: Poisonous to the touch and release a very toxic spore. They are able to beat fast enough to create whirlwinds filled with their toxic spores and vibrate intensely to create distortion.
Talons: Sharp talons attached to their fingers and feet that allow them to latch onto and take away their prey and inject poison into them.
Tongue: Long, sharp, needle-like tongue that can inject itself straight into the target and inject poison into them, or suck fluid from them.
Natural/Signature Abilities
Distortion Wing - Vibrates wings to create atmospheric distortions of variable strength and intensity. (Paralysis)
Disorient - A close-range distortion burst that is capable of completely disorienting a target, down to their thoughts and mobility. (Paralysis, Immobilization)
Destabilization - A constant distortion vibration released from the wings that ruptures and destabilizes wavelengths in the air. It may also mess with the perception and five senses of those within the waves. (Immobilization, Slow)
Distortion Spore - A powerful poisonous spore with a variety of effects depending on color. The Distortion Spores alter their effects through powerful concentrated vibrations. (Sleep, Paralysis, Amnesia, Slow, Poison, Blind)
Distortion Resonance - Releases powerful waves of distortion that not only jam other wavelengths in the area, but also allows for the Distortion Moth to resonate with these wavelengths to cause maximum discord in the area. When resonating with airborne wavelengths, their distortion may become powerful enough to disrupt any type of Resonance within their presence.
Ultrasound Distortion - A concentrated ultrasonic blast of sound that ruptures and weakens what it touches with extremely powerful, condensed vibrations. It also ruptures and blocks out all form of sound through the powerful disrupting wavelength of the screech.
Distortion Shift - A distortion wave powerful enough to shift the flow of space and time slightly, causing things to move at an accelerated or decelerated rate. A powerful enough distortion can stop time completely momentarily or increase time momentarily to make things happen instantly. (Slow, Stop, Haste, Quicken)
Disruption Jammer - A powerful veil of highly condensed distortion that blocks the Moth from being sensed or detected. Not only this, it jams any wavelengths it comes across and can even distort the air to make itself invisible.
Distortion Moth Info
Male
Female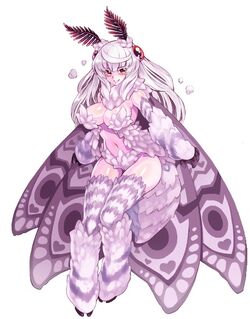 Giant, human-sized moths that are capable of standing on hind legs. They are incredibly fast, flying insects known for their stealth and extremely keen vision and use of sound. They are used as messengers to deliver messages to dangerous places because of their quickness and sneakiness, despite being cowardly and fly away when scared. Because of its speed and stealth, it can fly right past enemies without being detected. It can attack using powerful vibrational distortions which can disorient and confuse it's foes. Furthermore, as it flaps its wings, dust comes off of them. It can use this dust to obscure the vision of nearby foes, as well as poison them.
They tend to be pests when around those they know cannot harm them, and will snatch food or items from people with the utmost quickness, and are hard to catch or keep track of. They consume anything they can, but prefer nectar from flowers or fluids from living creatures. They enjoy the smell of rotting flesh and other dank smells, and thus can be found in places like cemeteries, as well. They are nocturnal creatures and come out only during the night or in places with limited sunlight, as they can move more easily without being seen in addition to their already quick flight and silent movement. They stalk their prey from a distance and swoop down when they least expect it in the night, injecting poison into them to paralyze them whilst they suck out all the fluids from the body. If they cannot make their capture, however, they immediately flee out of fear of being attacked, since their bodies are generally very feeble and weak.
Points: 5
Soul Worth: 1-3
Gold Dropped: 5